Family Stories
Drew and Kaylea Pridgen were born unexpectedly on February 8, 2004. Their parents, Shane and Dawn, stayed at the Ronald McDonald House of Central Georgia for 101 days. During their stay, they made lifelong friends with the RMHC staff, NICU nurses and other families who were also experiencing the anxiety of having a child in the hospital and being away from home. Since returning to Tifton, the Pridgens have been active supporters of our House and have opened their hearts to the House that opened its doors to them.
---
Ethan Davis was born 3 months premature on August 4, 2010. He weighed only 1 pound 4 ounces at birth and was a mere 10 inches long! His mom, Lydia, stayed at the Ronald McDonald House of Central Georgia for 89 days while Ethan struggled to survive in the NICU at the Medical Center of Central Georgia. Ethan's skin was so sensitive at birth that his mom could not hold him for a month and could only touch him with gloves on. Ethan weighed 4 pounds when he was released from the hospital in November 2010 and over 13 pounds when he visited our House in March 2011.
---
On June, 25, 2008 eleven year old Kristopher Monday became sick and was taken to Putnam General Hospital. He was treated for extremely high blood sugar and dehydration. He was soon transferred to PICU at the Children's Hospital of the Medical Center of Central Georgia where he was placed on life support. He was later diagnosed with Lennox Gastaut Syndrome, a fatal form of epilepsy. When Kris's medical battle brought him to Macon, his parents found a home-away-from-home at the Ronald McDonald House of Central Georgia. His mother Patty says of our House, 'they meet all of your needs … they're supportive …they're a shoulder to cry on …they're a pat on the back.' Kristopher battle ended on August 25, 2011. In those 3 years, his family found refuge at our House for 10 visits totaling over 100 days.
---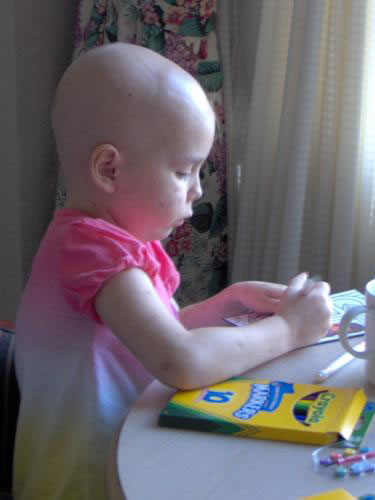 In late August 2006, three year old Olivia Culpepper started looking a little pale. Her parents laughed when she mimicked her grandparents saying, "Oh, my backache" once in a while. By September, her lips and the soles of her feet were completely colorless; she had night sweats; she was restless all day. One Saturday afternoon her mother heard a soft cough. When the doctor said 'leukemia', her parents had no idea that meant 'cancer'. Olivia's battle included many nights in hospitals in Macon, Atlanta and Texas. When her struggle took her to The Medical Center of Central Georgia, her parents found refuge at the Ronald McDonald House. Nearly four years after her diagnosis, her mother wrote 'Olivia opened her eyes to a brand new world on May 25, 2010 when she passed gracefully from her family's arms into God's mighty hands.'
---
William and Heather Lally stayed at the Ronald McDonald House of Central Georgia during the snow storm of January 2011 when their 5 year old son, Liam, was admitted to PICU and diagnosed with Type 1 Diabetes. Heather writes 'That event turned our lives upside down, and we will never be the same. But the comfort and love we felt from the Ronald McDonald House is something we will never forget. From the safe, comfortable house to the hot meals to the friendly faces, it was a blessing in a time of despair.' Because our House is within walking distance of the hospital, the Lallys were able to stay together as a family during their time of medical and emotional need - snowstorm and all.