Our Families
Drew and Kaylea Pridgen were born unexpectedly on February 8, 2004. Their parents, Shane and Dawn, stayed at the Ronald McDonald House of Central Georgia for 101 days. During their stay, they made lifelong friends with the RMHC staff, NICU nurses and other families who were also experiencing the anxiety of having a child in the hospital and being away from home. Since returning to Tifton, the Pridgens have been active supporters of our House and have opened their hearts to the House that opened its doors to them.
---
Ethan Davis was born 3 months premature on August 4, 2010. He weighed only 1 pound 4 ounces at birth and was a mere 10 inches long! His mom, Lydia, stayed at the Ronald McDonald House of Central Georgia for 89 days while Ethan struggled to survive in the NICU at the Medical Center of Central Georgia. Ethan's skin was so sensitive at birth that his mom could not hold him for a month and could only touch him with gloves on. Ethan weighed over 4 pounds when he was released from the hospital in November 2010 and over 15 pounds on his first birthday.
---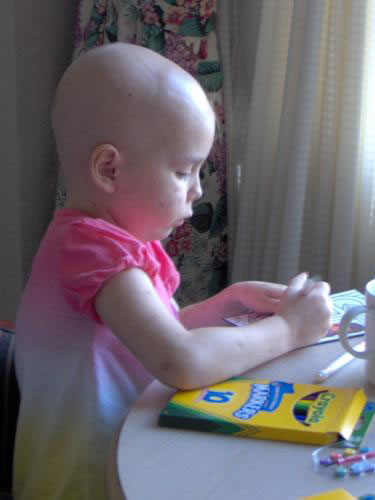 In late August 2006, three year old Olivia Culpepper started looking a little pale. Her parents laughed when she mimicked her grandparents saying, "Oh, my backache" once in a while. By September, her lips and the soles of her feet were completely colorless; she had night sweats; she was restless all day. One Saturday afternoon her mother heard a soft cough. When the doctor said 'leukemia', her parents had no idea that meant 'cancer'. Olivia's battle included many nights in hospitals in Macon, Atlanta and Texas. When her struggle took her to The Medical Center of Central Georgia, her parents found refuge at the Ronald McDonald House. Her family writes that RMH was where their family 'found refuge during the many hard days and long nights. It was here where we celebrated our birthdays, Halloween and Thanksgiving holidays. And it was around your table that our family gathered right after Olivia passed away. And even afterwards, we have been comforted by your folks'.
---
Sophia Jacques was born 12 weeks premature and weighed only 2 pounds 6 ounces. Her father was deployed in Afghanistan when she was born, but was able to come home for a few days to see his wife and new daughter. His visit was brief and he had to return to duty. Sophia's Mom was alone, but had the Ronald McDonald House family for comfort and hope. When Sophia was strong enough to go home to Fort Stewart, her Dad was still overseas. One of our RMH families followed Sophia and her mom home to make sure they made the three hour trip safely and that everything was just right for Sophia's first night at home. A Ronald McDonald House is more than a place to eat and sleep. It is a place of refuge and hope, and a place to find strength in numbers.